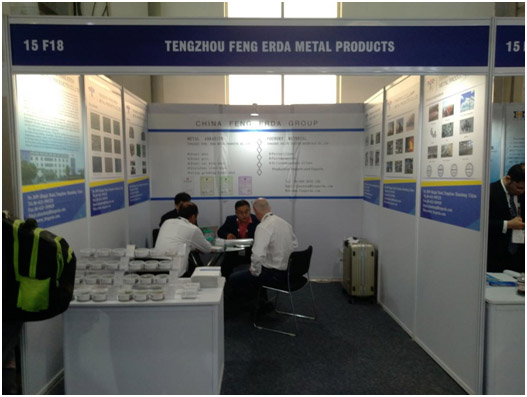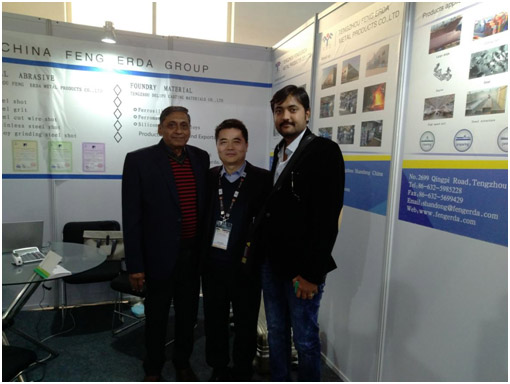 Feng erda Group participated in the 2019 IFEX in India from January 18 to 20.It was a great meeting of the foundry industry,We got to know a lot of dealers and foundry factories in India.
Feng erda Group has two Subsidiaries:Tengzhou Feng Erda Metal Products Co.,Ltd and Tengzhou Delifu Casting Material Co.,Ltd. Fengerda main products cover:Steel Shot,Steel Grit,Alloy Grinding Steel Shot,Stainless Steel Shot,Steel Cut Wire Shot ect. Delifu main productscover:Ferrosilicon,Ferromanganese,Silicon Manganese Alloy,Ferrochrome, Ferromolybdenum Inoculants ect.Our products are used in foundry industry, aerospace industry, automobile industry, shipbuilding industry and so on.
67th Indian Foundry Congress & with IFEX 2019, Cast India Expo Exhibitions Concurrently with 15th Asian Foundry Congress on 18-19-20 January, 2019 hosted by Delhi NCR Chapter at India Expo Centre and Mart, Greater Noida, NCR of New Delhi on behalf of the Northern Region of The Institute of Indian Foundrymen.
Indian Foundry Industry enjoys a status of the second largest producer of cast components in the world with about 10 million tons production per annum.
The summit will be a meeting place for casting manufacturers, foundry suppliers, casting buyers and entrepreneurs to explore new avenues in the industry and showcase their capabilities. The event itself is inspiring for Foundry community and new interns as we are anticipating more than 1500 registered delegates and 10,000 visitors this time making it the largest global conference for the foundry industry.
The only trade fair in India, which is rapidly becoming one of the important casting sourcing destinations in Asia - Cast India Expo will be organized concurrent to IFEX 2019 and 67 Indian Foundry Congress. th This is an excellent platform for the foundries from all across India to display their capacities and capabilities to the buyers comingfromacross the globe.
FENGERDA GROUP focuses on quality, creates brand, serves customers and assumes social responsibility.It has been well received by domestic and foreign customers
---
Post time: Dec-15-2020